Due to recent ground beef recalls my regular recipes need a little modification.... So tonight we are trying ground turkey a chilli. I have a good feeling about this recipe, it sure does smell good...
What you will need;
1 can (796 mL) diced tomatoes
1 can (156 mL) tomato paste
1 can (540 mL) mixed beans
1 green pepper
1 cup of frozen corn
500g of ground turkey
1 pack of taco seasoning
In a frying pan cook ground turkey. Add taco seasoning. Rinse canned mixed beans. In a large pot mix together; diced tomatoes, tomato paste, mixed beans, green pepper and corn. Add cooked turkey to vegetable mix in large pot, and bring to a slow boil. Serve.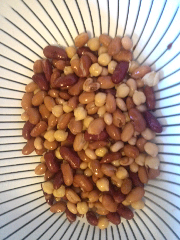 I always like to rinse canned beans, as I don't enjoy the mystery stuff they are coated in.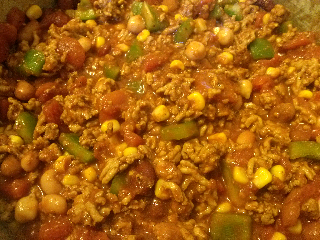 I added taco seasoning to the turkey, which I wouldn't do for beef, just because turkey tends to be bland and need the boost in flavor.